Here you will learn how to use the note service to either add a new note to a call or find a list of notes already created.
These are notes that allow you to retrieve the topic of the call or keep a small diary of communications between the user and a contact.
Create

a new call note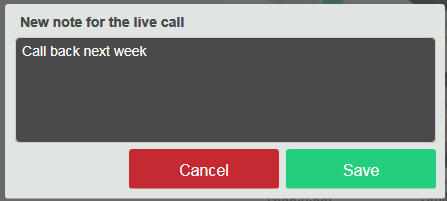 This is the dedicated call notes panel which you access by clicking on the three dots in the call panel on an active call, you can select the 'Add call notes' item

to

immediately

create

a note that will be saved

to

gether with the current call details.

 

 

 

You can access notes directly from the list of calls listed in the Reports tab by clicking on the icon 

When a note is already created the notes icon updates itself and becomes 
The notes can be accessed from the 
icon shown against contacts under the Phone book tab. 
The list of all the calls containing a note can be retrieved: 
From call reports under the Reports tab, all the calls containing a note are shown with the following icon  : clicking above access the call directly with a linked note in the information panel;
From the information button  under the call contact in the Phone book tab, or in the user panel. In both cases the note shown can be updated or deleted with the appropriate keys.