Conference Call
Making a Conference Call via the User interface is simple with our drag and drop feature.  For internal conference calls, you can simply drag and drop other people's photos/extensions into the left-hand side of the screen, put the first caller on hold, and then drag the subsequent callers on to their extension.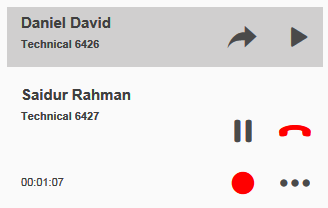 Please ensure that you click on the picture

(as opposed to the arrow which transfers the call).In the same way you can easily answer a call externally and bring your colleagues into the conversation (see screenshot below).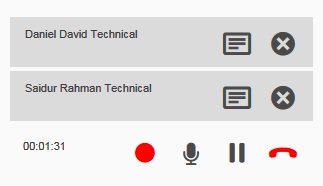 For external call conference attendees instead,  you can ask them to call you and put them on hold and then forward the call.
Conference Bridge/Meeting Room 
For a large number of external conference call attendees, however, it is better to set up a conference bridge meeting room. Please note too, that you may wish to use the meeting room feature if you don't wish to pay for the call on your own line.
To set up a meeting room you need to contact your phone system administrator. They will provide you with a number that they have created which relates to a conference bridge.
Simply call this number at the appropriate time to dial into the meeting room. Once you have called the meeting room you will be prompted to enter the pin number. With an internal call, you simply call the room pin number to get access. If,  however, you are calling in from a mobile phone, then you should call the meeting room number and add the pin code.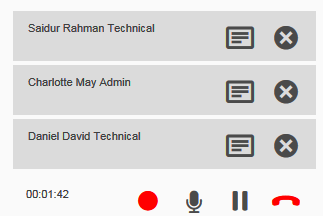 As others join the meeting room you will be able to speak and hear them all as if you were in a regular call.
To learn about other features on your User Interface (UI), please see those listed under this link: VOIspeed User Interface Help